Pier in Mangalsala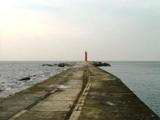 Riga Pier in Mangalsala
Mangalsala - this is the very first part of the city, which incoming ships see, going by Daugava from Riga gulf side. Exactly from Mangalsala there is a dike (or Eastern Pier) going into the sea. It was built in a period of time from 1850 until 1861. Construction works have been guided by Nicolay Alexamdrovich in 1856 and 1860. in the 90s of 20th century the stone board was corrupted and during the repairing of the pier was walled in it.
In Mangalsala woods there are some parts of shore batteries and forts, which are now under the protection of the government.
Transport to the Pier in Mangalsala
From the centre of the town by bus nr. 24 until the last stop "Mangalsala".
The Pier in Mangalsala on the Riga map