Sarkanā Krusta slimnīca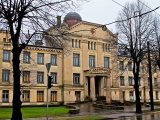 Sarkanā Krusta slimnīca
Slimnīcas galvenā ēka celta 1909. - 1912. gadā pēc F. Šefela projekta, bet blakus esošie korpusi celti 1933. gadā pēc A. Klinklāva projekta.
Slimnīcas ēkas tika uzceltas no Sarkanā Krusta un Krievijas cara valdības piešķirtajiem līdzekļiem. Slimnīca sākotnēji bija paredzēta ķirurģiskajām operācijām un žēlsirdīgo māsu apmācībai. Sākumā tā darbojās kā Krievijas - Latvijas neatkarības gados jau kā Latvijas - Sarkanā Krusta slimnīca, bet vēlāk tā tika pārdēvēta par Rīgas 4. slimnīcu. Slimnīcā darbojās arī pirmā žēlsirdīgo māsu skola Latvijā.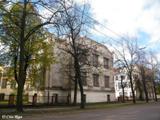 Sarkanā Krusta slimnīca
Slimnīcā sākotnēji bija 100 gultasvietas, kas paredzētas slimniekiem un to kopējām. Bet vēlāk radās nepieciešamība to paplašināt, kas notika vairāk kārt. 20. gadsimta 90-to gadu vidū slimnīcā bija iespēja ārstēties līdz 210 slimniekiem, un tajā strādāja 40 augsti kvalificēti ārsti un 100 medmāsas. Pēdējais kapitālais remonts slimnīcas ēkām tika veikts 1974. gadā, bet 1995. gada 10. jūnijā slimnīcu slēdza, lai veiktu kapitālo remontu, tomēr remonta darbi tā arī netika veikti, un slimnīca tika slēgta.
Sīkāk par Sarkanā Krusta slimnīcu lasiet sadaļā "Grīziņkalns".
Sarkanā Krusta slimnīca vēsturiskās bildes
Sarkanā Krusta slimnīca XX.gs. sākumā
Avots: 1201.lv
Sarkanā Krusta slimnīca XX.gs. sākumā
Avots: maskfor.lv



Kā nokļūt līdz Sarkanā Krusta slimnīcai
Ar trolejbusiem Nr. 11., 13., 22. līdz pieturai "Lienes iela";




Sarkanā Krusta slimnīcas atrašanas vieta Rīgas kartē