The historical centre of Riga
The historical centre of Riga has begun its establishment only in the end of 19th century after the city defense walls were demolished. Until this period there were only two parts of the city - Old Riga as an inside part of the town, and the other territory behind the defense walls, with some restrictions in the house building processes. Situation changed in 1860th when the construction of the embankment of the channel has begun. This embankment is some kind of the boarder between Old Riga and the historical centre of the town. On the territory of the centre the monument of Freedom is situated – the symbol of Freedom of Latvia. The House of Latvian society is one of the oldest and most important Latvian organizations. Riga Circus – has simple railroad parts. Berg's market – is an evidence, that the son of servant could become the famous manufacturer.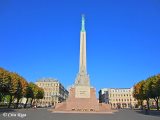 And certainly you can't forget that Riga is a pearl of art nouveau which was the reason, why it was included in UNESCO list of the world cultural legacy. The historical centre of Riga was the kind of place for the competition between the local architects, especially at the start of 20th century.
All this and a lot of other things have been already experienced by the hundreds of tourists, which arrive in Riga to witness the uniqueness of the historical centre.