Riga Lutheran Church of Jesus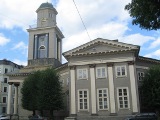 Riga Lutheran Church of Jesus
During its existence the church of Jesus as long as the biggest part of Riga churches, was many times demolished and then restored. The first stone in its foundation was put in 1635; the church was consecrated in 1638. Today's building of the church of Jesus was built in 1822 according to the project of architect H. F. Breitkreic. Nowadays this is the biggest wooden building in Latvia and one of the biggest wooden churches in Europe. The tow-staged tower of the church is 37 m high.
Lutheran Church of Jesuss bildes

Lutheran Church of Jesus

Lutheran Church of Jesus

Lutheran Church of Jesus
Transport to the Church of Jesus
• The church of Jesus is located in 15 minutes walk from Old Riga,
• 10 minutes walk from the National Opera,
• 12 minutes walk from the Railway station,
• 10 munites walk from the Bus station.
The Church of Jesus on the Riga map