Apollo teātris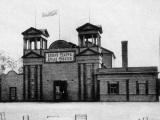 Apollo teātra ēka
Avots: 1201.lv

20. gs. sākumā Fr. Šindlers, kas bija Šampētera alus brūža īpašnieks, Grīziņkalnā izveidoja atpūtas vietu turīgajiem pilsoņiem, kur būtu iespējams iegādāties arī dzērienus. 1901. gadā Grīziņkalna dienvidu nogāzē tika uzcelta vienkārša, nekrāsota koka ēka ar ieeju no Pērnavas ielas puses vasaras varietē teātra vajadzībām. Šajā vizuāli nelielajā koka būdelē, ko nodēvēja par "Apollo", bija plaša zāle, kurā varēja iekārtot ap 600 sēdvietu un stāvvietu, kā arī vidēji liela skatuve. Zāles malās, tāpat skatuves priekšā, bija ložas, savukārt vidusdaļu varēja izmantot gan restorāna vajadzībām, gan teatrāliem uzvedumiem. Ēkas dienvidu pusē tika iekārtoti slēgti kabineti, kas bija paredzēti personālam. Ārpusē, blakus teātrim, ierīkoja deju grīdu un vasaras bufeti, kas bija pieejama arī vienkāršākai, mazturīgākai publikai.

Tur tika uzvesti viegli, jautri varietē priekšnesumi – dejas, farsi, operetes. Apmeklētāji tika izklaidēti arī rādot ekvilibristiku, akrobātiku, dzīvnieku dresūru un svarcelšanu cirka mākslinieku izpildījumā. Neskatoties uz to, ka Apollo bija izvietots Rīgas nomalē, tas tomēr bija viens no iecienītākajiem krogiem Rīgā, kur apmeklētājus parasti visvairāk varēja sastapt tieši nedēļas nogalēs. 1905. gada rudenī teātra telpas tika izdemolētas un teātris tika slēgts.

Kopš 1905. gada decembra telpas bijušajā "Apollo" teātri nomāja Latviešu tautas teātris, kas bija teātra oficiālais nosaukums, bet neoficiāli to dēvēja par Grīziņkalna teātri. Bieži izskanēja arī vecā teātra vārds – Apollo teātris. Šim teātrim nebija savas materiālās bāzes, jo to neuzturēja neviena organizācija. Tas darbojās tikai no niecīgajiem ienākumiem un līdzekļiem, ko aktieru trupas sastāvs tajā ieguldīja. Tā kā aktieri teātrī neko nevarēja nopelnīt, tad trupas sastāvs, kā arī tā vadība nemitīgi mainījās. Teātris, kas pastāvēja no 1905. gada beigām līdz 1908. gada rudenim, savā ziņā, bija pagaidu teātris, jo, kad 1907. gadā nodibinājās Liepājas latviešu teātris un 1908. gadā Jaunais Rīgas teātris, tie uzaicināja talantīgākos Apollo teātra aktierus pie sevis.