Rīgas nami 18.gs.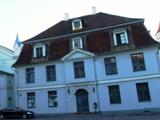 18.gs. arhitektūras piemērs

18. gs, kad pilsēta tika atjaunota pēc krievu armijas postījumiem, nojauca lielāko daļu pilsētas vienstāvu ēkas, lai to vietā celtu jau divstāvu ēkas ar jumta stāvu, kas vairāk atbilda tā laika prasībām. Celtniecība Vecrīgā turpinājās visu 18.gs. Tomēr 18.gs. celtās ēkas vairs nav tik raksturīgas kā 17.gs. celtās.

Jauns posms celtniecībā sākās no 1775.-1825.gadam, ko veicināja straujā pilsētas attīstība un pilsētnieku turības vairošanās. Līdz 18.gs. pilsētā tika turēti arī mājlopi, tad tagad, izņemot zirgus, Rīgas namnieki citus dzīvniekus vairs neturēja. Kā rezultātā nevajadzīgas palika daudzas vecās saimniecības ēkas. To vietā tika celti jauni dzīvojamie nami, arī mājas plānojums bija mainījies. Turīgie rīdzinieki tagad savās mājas nodalīja istabas – rodas viesistabas, ēdamistabas, guļamistabas, bērnu istabas un citas istabas.

Ēkas tad cēla no ķieģeļiem ar plakaniem griestu segumiem, tikai pagraba telpām griestus vēl velvēja. Ēkas galveno fasādi izcēla kolonas un smalki ģipša rotājumi, kuru formas patapinātas no antīkās pasaules. Vecrīgas arhitektūrā ienāca klasicisms. Tomēr arhitektūrā saglabājas iezīmes arī no baroka. Namnieki īpašu uzmanību pievērsa ēku portāliem, ko tagad apvienoja kopējā kompozīcijā ar galvenā stāva centrālo logu un balkonu. Viens no autoriem, kas Rīgā izstrādāja šādu namu portālus bija K. Haberlands. Viņa celtie nami atrodas Pils ielā 9, Smilšu ielā 5, Šķūņu ielā 17, Vecpilsētas ielā 11 un citur. 18.gs. celto ēku savdabība ir tā, ka kalpotājiem ēkā nebija pašiem savu dzīvojamo telpu, tās atradās sētā blakus ratnīcai un zirgu stallim. Šajā laikā Rīgā bez Haberlanda aktīvi darbojās arī citi meistari- piemēram, A. Vāgensens, K. Valters, J. Krāmers un citi. Viņu celtajām mājām parasti bija trīs stāvi un mansarda jumts ar iebūvētiem dzīvokļiem.

18.gs. tika celtas arī sabiedriskās celtnes, tomēr tās harmoniski iekļāvās pilsētas apbūvē - no dzīvojamās apbūves tās dažreiz atšķīrās tikai ar lielāku stāvu augstumu un mazliet bagātāku ārējo apdari.