Iļģuciema apbūve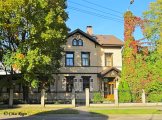 20.gs. sākuma apbūves piemērs Iļģuciemā Lilijas ielā
18.gs. sākumā, Ziemeļu kara laikā, Iļģuciema apbūve tika nopostīta. 18.gs. beigās un 19.gs. sākumā šī Rīgas daļa sāka veidoties par izteiktu rūpniecības centru, te nepārtraukti palielinājās iedzīvotāju skaits, jo fabrikām bija nepieciešams darbaspēks. Šie faktori ietekmēja arī Iļģuciema apbūvi. Pirmie fragmentārie apkaimes apbūves projekti tika izstrādāti 20.gs. sākumā un 20.gs. 30 gados.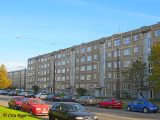 Padomju arhitektūras piemērs Iļģuciemā Lidoņu ielā
Lielākas izmaiņas apkaimes apbūve piedzīvoja 20. gs. vidū. Šajā laikā tipveida ēku celtniecībā lielu uzmanību pievērsa industriālo darba metožu pielietošanai celtniecībā. 20.gs. 50-tajos gados ēkas projektēja ar nesošām ķieģeļu garensienām. To vidū īpaši izcēlās 303. sērijas ēkas Iļģuciemā, kas celtas pēc M. Ramanes un E. Kalniņas projektiem. Tās tika celtas Rīgas cementa un šifera rūpnīcas strādniekiem un bija pirmās sērijveida ēkas apkaimē. Apkaimes detalplānojums tika izstrādāts 1968. gadā institūtā "Pilsētprojekts". Projekta rezultātā tika noteikta pilnīga apkaimes restrukturizācija, radot arī jaunu ielu tīklojumu, trīs galvenos mikrorajonus, sabiedrisko centru un publisko parku Nordeķa muižas teritorijā.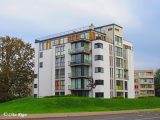 Nams Buļļu ielā 35
Nākamais posms Iļģuciema arhitektūras attīstībā sākās 20.gs. beigās un turpinās vēl šodien. Minēsim tikai dažus no jaunajiem projektiem, kas atrodas gan jaunbūvēs, gan arī renovētās ēkās:
• Viens no jaunākajiem projektiem atrodas Buļļu ielā 35, kas nodots ekspluatācijā 2006. gadā. Tā ir jauna daudzdzīvokļu dzīvojamā māja ar sešiem stāviem, kas atrodas apzaļumotā un labiekārtotā uzkalniņā, kas to izceļ uz apkārtnes fona. Raugoties no augšējiem stāviem paveras laba panorāma.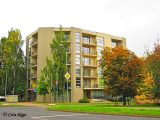 Nordeķu nams

• Nordeķu nams, kas atrodas Lilijas un Buļļu ielas krustojumā (Lilijas ielā 28). Nams nodots ekspluatācijā 2008. gadā. Ēkai ir seši stāvi, pirmajā paredzētas vietas komercplatībām, bet pārējos stāvos dzīvokļiem. No nama paveras skats uz Nordeķu parku.

• Bēnes ielā 10 atrodas viens no rekonstruētajiem Iļģuciema namiem, kas ekspluatācijā nodots 2005. gadā.