Sarkanā Krusta slimnīca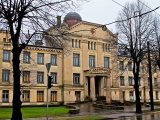 Sarkanā Krusta slimnīca
Sarkanā Krusta slimnīca atrodas Jāņa Asara ielā 3. Slimnīcas galvenā ēka celta 1909. - 1912. gadā pēc F. Šefela projekta, bet blakus esošie korpusi celti 1933. gadā pēc A. Klinklāva projekta.
Slimnīcas ēkas tika uzceltas no Sarkanā Krusta un Krievijas cara valdības piešķirtajiem līdzekļiem. Pacientiem tā tika atklāta 1919. gadā. Slimnīca sākotnēji bija paredzēta ķirurģiskajām operācijām un žēlsirdīgo māsu apmācībai. Sākumā tā darbojās kā Krievijas - Latvijas neatkarības gados jau kā Latvijas - Sarkanā Krusta slimnīca, bet vēlāk tā tika pārdēvēta par Rīgas 4. slimnīcu.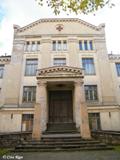 Sarkanā Krusta slimnīca
Slimnīcā darbojās arī pirmā žēlsirdīgo māsu skola Latvijā. Skolas beidzējas tika sūtītas uz Londonu, lai tur papildinātu savas zināšanas. Kopš 1920. gada slimnīcā notika arī studentu klīniskā apmācība.
Slimnīcā sākotnēji bija 100 gultasvietas, kas paredzētas slimniekiem un to kopējām. Bet vēlāk radās nepieciešamība to paplašināt un 1927. gadā papildus vecajam korpusam Tallinas ielas otrajā pusē uzcēla medicīnas māsu kopmītni ar vēl 70 gultasvietām. Vienā no šiem korpusiem, kas atradās Pērnavas ielā 62, Sarkanais Krusts izveidoja Protezēšanas un ortopēdijas centru dažāda veida protēžu izgatavošanai, kas darbojas līdz pat šai dienai.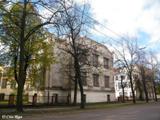 Sarkanā Krusta slimnīca
20. gadsimta 90-to gadu vidū slimnīcā bija iespēja ārstēties līdz 210 slimniekiem, un tajā strādāja 40 augsti kvalificēti ārsti un 100 medmāsas. 20. gs 90. gados slimnīca galvenokārt praktizēja sniegt neatliekamo medicīnisko palīdzību iekšķīgās slimībās, ķirurģijā un ginekoloģijā. Slimnīcas telpās atradās arī Latvijas māsu asociācija, Latvijas – Amerikas acu centrs, Spīdzināto personu medicīniskās rehabilitācijas centrs un Daugavas Vanagu Centrālās valdes pārstāvniecība Latvijā.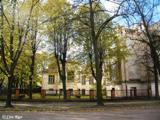 Sarkanā Krusta slimnīca
Pēdējais kapitālais remonts slimnīcas ēkām tika veikts 1974. gadā, bet 1995. gada 10. jūnijā slimnīcu slēdza, lai veiktu kapitālo remontu, tomēr remonta darbi tā arī netika veikti, un slimnīca tika slēgta.
21. gs. sākumā ēkas ir daļēji pamestas un izdemolētas. Sarkanais Krusts ir mēģinājis savu īpašumu atgūt, bet pagaidām tas nav izdevies nesakārtotās likumdošanas dēļ.
Saistītie raksti:
• Delfi, 30.07.2007 - Sarkanais Krusts vēlas atgūt īpašumus un izvērsties.
• Delfi, 20.11.2010 - 'ARS' bijušo Sarkanā Krusta slimnīcu sāks atjaunot nākampavasar.
Sarkanā Krusta slimnīca vēsturiskās bildes
Sarkanā Krusta slimnīca XX.gs. sākumā
Avots: 1201.lv
Sarkanā Krusta slimnīca XX.gs. sākumā
Avots: maskfor.lv