Brasas tilti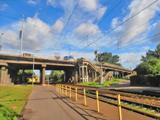 Brasas tilts
Brasas tilts. Pirmais elektrovilciens Brasas stacijā pieturēja 1957. gada 20. jūlijā, kam par godu notika īpaša sagaidīšana. Tieši pēc dzelzceļa līnijas elektrificēšanas radās nepieciešamība izbūvēt dzelzceļa pārvadu. 1959. gadā tika atklāts Brasas tilts jeb Brasas dzelzceļa pārvads. Resursu un naudas trūkuma dēļ Brasas pārvada laidums veidots no L veida šķērsgriezuma tipveida sijām, kuras projektētas kādā Ļeņingradas (šodien St. Pēterburga) institūtā. Tagad ir nepieciešami lieli līdzekļi, lai šo pavirši veidoto pārvadu rekonstruētu. Pār to uz Meža kapiem un tālāk uz Mežaparku iet 11. maršruta tramvaja līnija.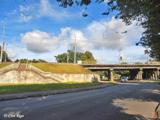 Brasas tilts
1991. gada janvārī barikādes tika izveidotas uz Brasas tilta un Vecmīlgrāvī lai sekotu OMON darbībai, kura spēki bija dislocēti kādā katlu mājā Vecmīlgrāvī. 14. janvārī plkst. 18:45 OMON uzbruka pie Brasas tilta, apmētāja mašīnas ar degmaisījuma pudelēm un izraisīja ugunsgrēku. 16. janvārī plkst. 18.30 notika OMON uzbrukums pie Brasas tilta, kur tika ievainots I. Gudrais.
2010. gada 5. martā pie Brasas tilta plīsa maģistrālais ūdensvads. Ūdensvada plīsuma dēļ bija apturēta gan automašīnu, gan tramvaja, gan dzelzceļa satiksme.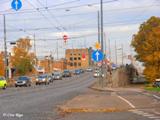 Gaisa (VEF) tilts
Gaisa tilts jeb "VEF tilts" ir vecākais satiksmes pārvads Rīgā pār dzelzceļu, kas tika atklāts 1906. gada 18. maijā. 20. gs. sākumā Rīga bija kļuvusi par nozīmīgu transporta mezglu Krievijas impērijā, bet vilcienu sastāvu mazo izmēru dēļ tie kursēja ar nelieliem intervāliem cits no cita. Rezultātā izveidojās biežas bīstamas situācijas uz dzelzceļa pārbrauktuvēm. Tas radīja nepieciešamību veidot dzelzceļa pārvadus. Dzelzceļa pārvada būvēšanu traucēja "Aleksandra vārti", ko pārcēla tālāk uz Šmerli. Gaisa tilta svinīgā balstu būvēšana tika atklāta 1904. gada 5. maijā. Pārvada balstu un uzbrauktuvju projektus izstrādāja Rīgas dzelzceļa mezgla rekonstrukcijas projektēšanas kantoris, to būvēšanu veica uzņēmējs M. Zaicevs.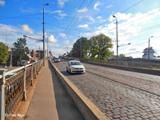 Gaisa / VEF tilts
2. Pasaules kara laikā tilta kopne tika daļēji iznīcināta- vāciešiem atkāpjoties un krievu armijai ienākot Rīgā. 1945. gadā tilts tika atjaunots pagaidu konstrukcijā. 1963. gadā Gaisa tilta pārvadu kapitāli pārbūvēja, iegūstot pašreizējo izskatu. 1991. gadā tika veikti pārvada brauktuves remontdarbi, kā arī ārpilsētas puses caurbrauktuvei tika nomainīts metāla siju laidums.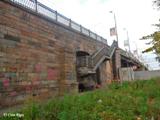 Gaisa / VEF tilts
Līdz Gaisa tilta atjaunošanai tika izveidoti divi jauni tramvaja maršruti. Viens gāja līdz Gaisa tiltam, otrs no Gaisa tilta. Pasažieriem ar visām mantām kājām bija jāiet pāri dzelzceļam, lai varētu braukt tālāk. 1946. gadā eksperimentālā kārtā no Gaisa tilta līdz Brasas tiltam sāka kursēt trolejbuss, lai gan oficiāli trolejbusa līnija Rīgā tika atklāta tikai 1947. gadā.