Vecrīgas arhitektūra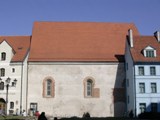 Rīgas arhitektūra 13.-16.gs.
Raksturīgākā viduslaiku pilsētas būve, bez kuras pilsēta nemaz nevarētu pastāvēt, bija pilsētas mūra nocietinājumi. Pirmā mūra siena bija Daugavas labajā krastā no upes grīvas gar tagadējo Minsterejas, Kalēju, Meistaru un Zirga ielu līdz Daugavas krastmalai un atkal sasniedza Rīgas upes grīvu pie Minsterejas ielas. Nocietinājuma mūris bija aptuveni 9 metrus augsts un 1,30 metrus plats. ...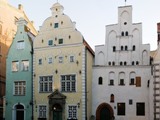 Rīgas arhitektūra 16.gs.
16.gs ieviesa radikālas pārmaiņas pilsētas arhitektūrā un sadzīvē. 16.gs. sākumā sāka izmantot šaujamieročus un pilsētas nocietinājuma mūris sāka zaudēt savu sākotnējo nozīmi, jo ar lielgabaliem to bija iespējams sagraut. Tādēļ 16. gs. vidū pilsētu sāka nocietināt, uzberot ārpus nocietinājuma mūriem vaļņus un izrokot nocietinājuma grāvi. Vaļņu augstums svārstījās no 8 līdz ...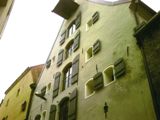 Rīgas nami 17.gs.
Aplūkojot 17.gs. Rīgas panorāmu redzams, ka gandrīz visas pilsētas ēkas bija ar pakāpjveida jumtgalēm, pie kam ēkas novietotas ar gala sienu pret ielu. Līdzīgi kā vecākais no trim brāļiem savos pirmsākumos. 17.gs. arhitektūru Vecrīgā raksturo divas lietas – noliktavu celtniecība un bagāto tirgotāju dzīvojamo ēku celtniecība. 17.gs. strauji attīstījās tirdzniecība un Rīgas tirgotāju peļņa auga...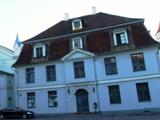 Rīgas nami 18.gs.
18. gs, kad pilsēta tika atjaunota pēc krievu armijas postījumiem, nojauca lielāko daļu pilsētas vienstāvu ēkas, lai to vietā celtu jau divstāvu ēkas ar jumta stāvu, kas vairāk atbilda tā laika prasībām. Celtniecība Vecrīgā turpinājās visu 18.gs. Tomēr 18.gs. celtās ēkas vairs nav tik raksturīgas kā 17.gs. celtās. Jauns posms celtniecībā sākās no 1775.-1825.gadam, ko veicināja straujā pilsētas attīstība ...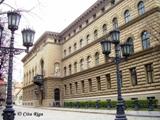 19. gs. arhitektūra
19. gs. celtās ēkas Vecrīgā raksturo paraugfasādes, kuras Rīgā ieviesa 1810. gadā. Paraugfasādes bija obligātas visā Krievzemē no 18.gs. beigām. Līdz 1840. gadam Vecrīgā pārbūvēja vai uzcēla no jauna aptuveni 100 namus. Paraugfasāžu veidi bija apkopoti četros, Pēterburgā un Maskavā izdotos, albumos un bija obligāti visām Krievijas pilsētām. No šī tipa ēkām ir saglabājušies ...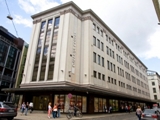 20. gs. arhitektūra (1900. - 1940.g.)

20. gs. sākumā, ceļot jaunas dzīvojamās ēkas, Vecrīgā parasti izmantoja maksimālo, būvnoteikumos atļauto, ēku augstumu - 6 stāvus. Apbūves blīvums nelielos gruntsgabalos sasniedza pat 100%, nereti arī apvienojot vairākus mazos zemes gabalus. Lielākā daļa 20.gs. sākumā celtās ēkas Vecrīgā bija daudzfunkcionālas. Ēkas pirmajā stāvā atradās veikali, kantori, bankas, bet augšējos stāvos bija ...