Railway station Tornakalns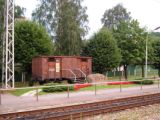 The wagon, used in deportations on
the railway station Tornakalns
The USSR's annexation of Latvia and following deportations of Latvian people to Siberia are connected very closely to railway station Tornakalns. Exactly form from this place on June 14, 1941 and March 25, 1949 approximately 9300 people from Riga and neighborhood were sent to Siberia. On the station men were divided from their families and sent to concentration camps. People were put into goods carriage; only the necessary things were allowed to be taken with. The biggest part of this people died from diseases, hunger and cold. Nowadays in Tornakalns it is possible to see the carriage, where people have been transported.
Transport to the Railway station Tornakalns
• From the centre by tram nr. 10 until the bus stop called "Tornakalna stacija".
• From the Central Railway station until the railway station Tornakalns.
Railway station Tornakalns on the Riga map