AB dambis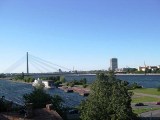 AB dambis
Avots: riga.in
AB dambis ir viens no dambjiem, kas tika uzcelts, lai nodrošinātu stabilu Daugavas krasta līniju. AB dambja pamati ir uzcelti 1886. gadā. AB dambis sākotnēji bija 42,6 metrus plats un 745 metrus garš.
Dambja virsbūve kalpoja ne tikai kā kuģu iekraušanas un izkraušanas vieta, bet arī kā Daugavu norobežojoša būve. To izbūvēja 19.gs. pašās beigās ar bruģētu nogāzi Daugavas pusē un vertikālu sienu gar jauno ostas akvatoriju.
Sākotnēji virsbūve bija no koka, bet 20.gs 20. gados to nomainīja ar dzelzsbetona plāksnēm.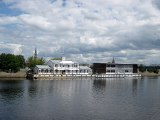 AB dambis
Dambis kā osta kalpoja līdz 1944. gadam, kad to uzspridzināja vācu karaspēks. Dambja atjaunošana notika 20.gs. 50. gados, tās laikā dambis vairs netika atjaunots tāds kā bija, bet gan no abām pusēm tas ieguva simetrisku profilu - dambis ieguva savu šodienas izskatu. Līdz pat šodienai dambis nav rekonstruēts vai pārbūvēts, uz tā ir veikti tikai daži nelieli remonta darbi.
Tagad uz AB dambja notiek dažādi izklaides un kultūras pasākumi, kā arī tika plānots veidot koncertzāli.
Kā nokļūt līdz AB dambim
• Ar tramvajiem Nr. 1., 2., 4., 5., 8., 10. līdz pieturai "Valguma iela".
• Ar autobusiem Nr. 3., 3a., 4., 4z., 7., 8., 21., 22., 22b., 25., 30., 38., 39. līdz pieturai "Kuģu iela";
AB dambja atrašanas vieta Rīgas kartē