The Freedom Monument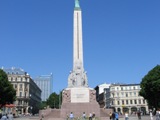 The Freedom Monument
2007
The Freedom Monument is symbol of the freedom of Latvian people. It was built for the donation money and opened on November 18th 1935. The monument was built according to the project of the sculptor Karlis Zale and architect Ernest Stalberg. The symbol of the Freedom was poured off of the bronze in Sweden. In the middle part of the monument, under the group Mother Latvia the words of Karlis Skalbe are engraved, saying: "For the Fatherland and Freedom". The monument is 42 metres high. The sculpture holds three stars in its hands as a historical symbol of cultural regions of Latvia - Kurzeme, Latgale and Vidzeme. The history of Latvia is engraved in the sculptures of the monument.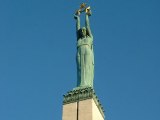 The symbol of the Freedom
2007
During the Soviet time it was restricted to gather at the monument and also to inflict flowers there. The first activities group, Helsinki 86 has held, took place in Atmoda (Awakening) times at the foot of the monument. The reconstruction works have started in the 2000th. November 11, 1992 an honorary guard as the monument has been restored.
Photos of The monument of Independence

The Freedom Monument

The Freedom Monument

The Freedom Monument
The Freedom Monument on the Riga map