The Art Nouveau (Modern style)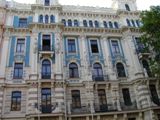 4a Alberta Street
2007
The Art Nouveau dominates in the architecture of Riga. Approximately 40% of the 19th and 20th century buildings represent art nouveau. The pearl of art nouveau is Alberta Street. Every house of the street is different. The building, known as A. Lebedinskys house, was built in 1904 on Alberta Street according to the project of architect M. Eizenstein. The house was built according to the plans of the income houses of Germany, where the windows of the representative rooms are on the side of the street, but bedroom's and service room's windows - on the yard side.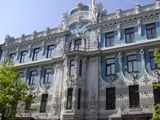 10b Elizabetes Street
2007
The building, known as B. Boguslovskys house, on Alberta Street 2a was also built according to the project of architect M. Eizentstein in the year 1906. There are a lot of deco buildings of the art nouveau on Blaumana, Terbatas and Rupniecibas street, which were built according to the projects of such architects as H.Shela and I.Felsko.
Photos of The Riga's Art Nouveau

Riga's Art Nouveau

Riga's Art Nouveau

Riga's Art Nouveau
Alberta Street on the Riga map