National Theatre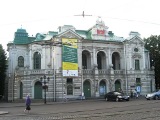 National Theatre
2008
Today's National theatre building was built as the second city theatre. The construction works continued from 1899 until 1902 according to the project of August Reinberg. In 1902 the city council decides to loan the building for three years to the Russian theatre, which used the building until 1917. In autumn of 1917 the performances on Latvian language showed up in the theatre.
In November 18, 1918 on the open meeting of the People's council, which took place in the building of the theatre the independence of Latvian Republic was declared.
The National theatre was established on November 30, 1919. The fronton of the main building was decorated by the big Riga blazon. It attenuated the theatre's belonging to the city. During the period of time from 2002 until 2004 the reconstruction took place inside of the building and the modern annex has been built.
National Theatre on the Riga map