The historical centre of Riga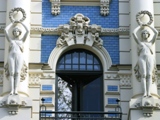 The building of the Stockholm
school of Economics
The historical centre of Riga has been established in the end of the 19th century, just after the demolition of city fortifications. Until that there were two parts of the city - Old Town, as the inside part of the city, and all the other territory outside the fortifications, where some building construction constraints existed. Things changed in the 60th year of 19th century, when they started to build the embankment of the channel. It has kept its look until nowadays. This embankment serves as a border between the Old Riga and the Historical centre. On the territory of the Historical centre there is a monument of independence, The House of Latvian society, Riga circus, Berg's market and etc.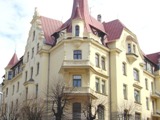 The Historical centre of Riga
Albeta Street
Riga is a pearl of art nouveau, therefore the city was included in the list of UNESKO cultural legacy. The Historical centre of Riga was something like the place for competition between local architects - every next house was build even better, more beautiful and unique, then the previous one.
Historical centre of Riga

Historical centre of Riga

Historical centre of Riga

Historical centre of Riga