St. Peter's Church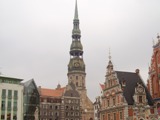 St. Peter's Church
2008
The first documental evidence of the existence of the church is dated by 1209. The present tower of the church has been constructed in 1491, but on March 11th, 1666 the 130 m high tower has fallen from a strong wind. The new tower has been constructed on its place, but it has burnt down in fire in 1677. In 1690 an architect Rupert Bindenshu has constructed a new tower, but the lightning has struck it in 1721 and it burnt down again. Iogan Vilbern has constructed a new tower only in 1746. The new tower has remained intact up to the end of the Second World War, when St. Peter's church has been destroyed.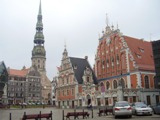 St. Peter's Church
and The Blackheads House
Regular restoration of a cathedral has begun only in 1954. In 1967 the unique reconstruction of the tower has started. The new tower was made of metal. The elevator was built inside, so that galleries could have been used as a viewing platform. The height of the tower is 123,25 meters. Visitors are lifted to the second gallery on height in 72 meters.
Photos of St. Peter's Church
St. Peter's Church on the Riga's map