The Town Hall Square and the Blackheads House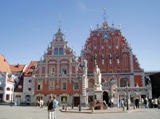 The Town Hall Square
2008
The Town Hall Square was formed of a market square and up to 19th century it was the economic and an administrative centre of Riga. A lot of different processions, competitions, tournaments and dances were organized on this square. The square was also a place for a fulfilment of execution. People of Riga were convoked to see it by a bell of the St. Ekaba's cathedral.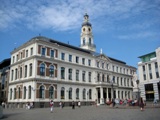 The Town hall
One of the major structures of the Town Hall square was the Town hall - a three-storied building with a tower and a clock on it. Main city problems were solved in the Town hall. It was a symbol of independence and it promoted construction activity in Riga. In this building till 1889 there was a Riga Town hall, later it was replaced by the selected municipal council.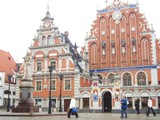 The Blackheads House
2008
The second considerable building on the Town Hall square was the Blackheads House. For the first time it is mentioned in sources in 1334, as the new house of the Big Guild. Originally it was rented by merchants of the Big Guild, and later - by unmarried merchants - a Blackheads' brotherhood. Blackheads were an association formed by young, unmarried merchants and captains of the ships. The building has been destroyed during the Second World War, and restored in 1999.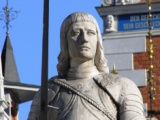 The statue of Roland
The statue of Roland has been established in 1896 on the Town Hall square. Roland was considered to be fair judge, the defender of accused and fair executor of judgements. Therefore it has been established on the Town Hall square with its face turned to the direction of the Town hall.
Photos of the Blackheads House

The Blackheads House in the night

Fragment of the Blackheads House

Entrance of the Blackheads House
The Town Hall Square on the Riga's map