"Three brothers"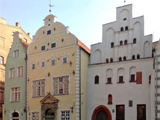 "Three brothers"
2008
Three brothers is the oldest dwelling complex in Riga. It is situated on the Small Castle Street 17, 19, 21 (Maza Pils 17, 19, 21). The name "Three brothers" has appeared on similarity to "Three sisters" of Tallinn. The oldest remained residential building is in Riga by the address Small Castle 15 (Maza Pils 15). It's been constructed at the end of 15th century, when Riga has established contacts with merchants from Netherlands and as a result some characteristics of architecture of Netherlands started to appear in city architecture. Opposite to the building there is a small platform with a porch with stone steps.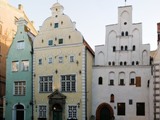 "The oldest" of Brothers
2008
Houses numbered 19 and 21 are of later constructions. All three houses together have a name "Three brothers", each house represents the various periods of development of dwelling houses construction in the Middle Ages. Three brothers were reconstructed in 1955 - 1957. After the termination of construction works, court yards of all houses have been united together. Now there is a Museum of architecture of Latvia, located in the building on the M.Pils Street 17.
"Three brothers" on the Riga's map